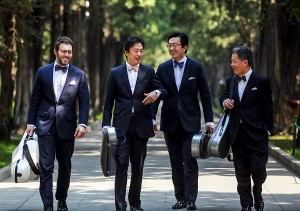 The Shanghai Quartet
Renowned for its passionate musicality, impressive technique and multicultural innovations, the Shanghai Quartet has become one of the world's foremost chamber ensembles.
Its elegant style melds Eastern music with Western repertoire, traversing musical genres from folk music to great masterpieces, to cutting-edge contemporary works. Formed in 1983, the Quartet regularly tours the major music centers of Europe, North America and Asia, from the International Music Festivals of Seoul and Beijing to the Festival Pablo Casals in France, and the Beethoven Festival in Poland.
The Quartet has appeared at Carnegie Hall and Lincoln Center. They have collaborated with the Tokyo, Juilliard and Guarneri Quartets, cellists Yo-Yo Ma and Lynn Harrell, pianists Menahem Pressler, Yuja Wang, Peter Serkin and Jean-Yves Thibaudet, and pipa virtuoso Wu Man.
The Quartet has a history of championing new music.  Its 30th Anniversary season brought new works from David Del Tredici, Carl Vine, Jeajoon Ryu, Lei Liang and Robert Aldridge. The Shanghai Quartet has an extensive discography of more than 30 recordings including Chinasong – a collection of Chinese folk songs arranged by Yi-Wen Jiang. The complete Beethoven String Quartets can be heard on Camerata, released in 2009. Media projects range from an on-screen appearance in Woody Allen's Melinda and Melinda to PBS television's Great Performances. Weigang Li appeared in the documentary From Mao to Mozart: Isaac Stern in China, and the family of Nicholas Tzavaras was the subject of the film, Music of the Heart.
The Quartet is the subject of a documentary film, Behind the Strings, currently in production.
The Shanghai Quartet is Quartet-in-Residence at Montclair State University, Ensemble-in-Residence with the Shanghai Symphony Orchestra, and visiting guest professors of the Shanghai Conservatory and the Central Conservatory in Beijing, and sponsored by Thomastik-Infeld Strings.
Weigang Li, violin
Born into a family of well-known musicians in Shanghai, Weigang Li began studying the violin with his parents when he was 5 and went on to attend the Shanghai Conservatory at age 14. In 1985, upon graduating from the Shanghai Conservatory, Weigang Li left China to continue his studies at Northern Illinois University and later studied and taught at the Juilliard School as teaching assistant to the Juilliard Quartet. His teachers have included Shmuel Ashkenasi, Isadore Tinkleman, and Tan Shu-Chen. Mr. Li was featured in the 1980 Oscar winning documentary film From Mao to Mozart: Isaac Stern in China. He made his solo debut at 17 with the BBC Symphony Orchestra and has appeared as soloist with Shanghai Symphony, China Philharmonic, BBC Scottish Symphony, Asian Youth Orchestra. Weigang Li is a founding member and first violinist of the Shanghai Quartet since 1983. In its 31th season, the Shanghai Quartet has performed well over 2000 concerts in 30 countries; recorded 34 CD albums, including 7-discs cycle of complete Beethoven string quartets on Camerata label. Weigang Li is a violin professor at Montclair State University in New Jersey and Bard College Conservatory of Music in New York. He also holds the title of guest concert-master of Shanghai Symphony Orchestra and guest professor at Shanghai Conservatory and Central Conservatory in Beijing. Mr. Li plays on the 1600 Giovanni Paolo Maggini violin (ex-Burmester), which is on a generous loan from Mr. Rin Kei Mei.
Yi-Wen Jiang, violin
Violinist Yi-Wen Jiang was born into a musical family in Beijing where both parents were professional musicians. Beginning his violin studies with his father at age six, Jiang made his concerto debut at the age of 17 with the Central Opera House Orchestra in Beijing where he played the Prokofiev D Major Concerto Opus 19. In 1985, after receiving a full scholarship from McDonnell-Douglas, Jiang came to the U.S. to study with Taras Gabora and Michael Tree. In 1990, with the support of the Ken Boxley Foundation, he went to Rutgers University to work with Arnold Steinhardt of the Guarneri Quartet. Other teachers included Gérard Poulet and Pinchas Zuckerman. As a prizewinner at the Montreal International Competitions, he appeared as a soloist with the Victoria Symphony and Montreal Symphony. Jiang has recorded for the Record Corporation of China. As a composer, Jiang has arranged over 50 pieces for string quartet and other instruments, many pieces composed with Eastern repertoire and Western influence. In addition to his extensive touring and recordings schedule, Jiang maintains a close relationships with his students. Jiang teaches at Montclair State University and the Bard College Conservatory of Music. He is also guest professor at the Central Conservatory of Music in Beijing and the Shanghai Conservatory. When not performing, composing or teaching, Jiang enjoys photography, and food & wine.
Honggang Li, viola
Honggang Li is the founding member Shanghai Quartet, now in it's 30th season, has performed over two thousand concerts in 30 countries and can be heard on more than 30 CD albums. Mr. Li began studying the violin with his parents at age seven. When the Central Conservatory of music in Beijing reopened in 1977 after the Cultural Revolution, Mr. Li was selected to attend from a group of over five hundred applicants. He continued his training at the Shanghai Conservatory and co- founded the Shanghai Quartet with his brother Weigang while in his senior year in the conservatory. The quartet soon became the first Chinese quartet to win a major international chamber music competition (the London International) and came to the US in 1985. He received MM of North Illinois University and served as a teaching assistant at the Juilliard School in New York. In 1987, he won the special prize ( a 1757 DeCable violin) given by Elisa Pegreffi of Quartetto Italiano at the First Paolo Borciani International Competition in Italy. Mr. Li is currently also an artist-in-residence and faculty at Montclair State University and held the same title at University of Richmond in Virginia from 1989 to 2003. He has been the guest professor of both conservatories of Shanghai and Beijing. Mr. Li is also the guest principle violist of the Shanghai Symphony Orchestra since 2009.
Nicholas Tzavaras, cello
A Native of Spanish Harlem in New York City, cellist Nicholas Tzavaras has toured the globe as a chamber musician, soloist and educator for the past two decades. Since 2000, Mr. Tzavaras has been the cellist of the internationally renowned Shanghai Quartet. Formerly on the faculty of the University of Richmond, Mr. Tzavaras is currently the coordinator of the String Department and artist in residence at Montclair State University's John J. Cali School of Music. He is also guest professor at the Shanghai and Central Conservatories of China.  In the fall of 2016 Tzavaras joined the faculty of the Longy School of Music in Boston. Mr. Tzavaras began the violin at age 2 with his mother, Roberta Guaspari and moved to the cello when he was 6.  A graduate of the Bronx High School of Science, he went on to receive degrees from the New England Conservatory and the State University of New York at Stonybrook where his cello teachers were Laurence Lesser and Timothy Eddy.  Mr. Tzavaras can be seen in the Academy Award nominated documentary "Small Wonders," the motion picture "Music of the Heart" starring Meryl Streep and with the Shanghai Quartet in Woody Allen's "Melinda Melinda." When he is not with his cello, Mr. Tzavaras is an avid cyclist, occasional triathlete, enthusiastic but unfortunately average chess player and, perhaps most importantly, a challenged father of three children all under the age of ten.